How does our educational program foster your child's learning and development?
Our comprehensive play-based educational program has been rated as 'exceeding' all elements of Quality Area 1: Educational Program and Practice in the National Quality Standard; an achievement that reflects the commitment, skills and knowledge of our team.
Informed by current research and the Early Years Learning Framework our program nurtures your child's learning and development holistically, preparing them to be confident, capable lifelong learners.
Play is very important for children's development and through play children learn to assess risk, challenge themselves, develop confidence and experience a sense of wonder in the world around them. Intentional teaching delivered in an accepting, sensitive and responsive environment by our team of experienced educators supports your child's social, emotional, cognitive and physical development.
Our team work closely with families and our onsite allied health team to support every child in their educational journey. Our onsite allied health team comprises of Occupational Therapists and Early Start Denver Model therapists.
The Early Start Denver Model curriculum is based on skills of typical childhood development and guides our programming of comprehensive teaching across developmental domains. Our onsite therapists are available to offer more intensive individualised teaching if required.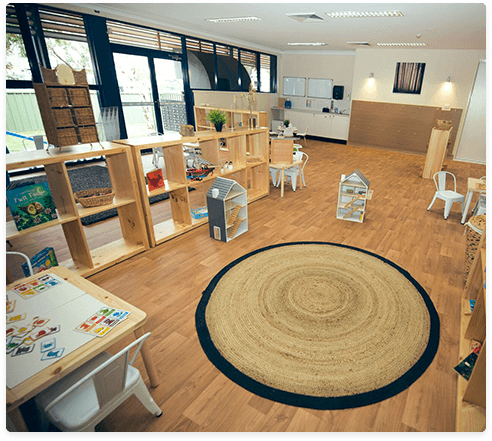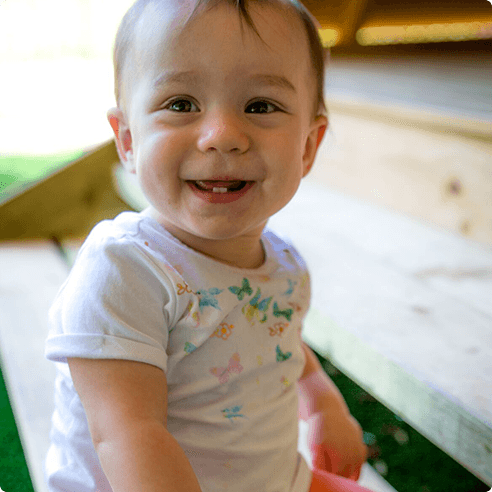 Nursery program
Caregivers provide support, celebrate achievements and foster independence. Our nursery rooms are rich in exploratory play, where children can move around a safe environment that is child oriented.
Children can learn at their own pace and engage in activities that are spontaneous (singing at nappy change time), and intentional (story time, singing, musical instruments, finger puppets and painting).
There is plenty of time for cuddles and opportunities to form individual bonds and create a sense of belonging. Caregivers are in tune with the needs of each child and babies are given the special attention they require, with cuddles and time to focus on caregiver's familiar faces. Each child is made to feel safe and secure in a homelike environment.
Toddlers program
Toddlers are acquiring knowledge and skills rapidly at this stage and need stimulating and interesting play spaces to enhance their growth.
At Making Waves toddlers have access to a language rich environment and the space they need to explore and investigate.
As individual personalities are developing it is important that educators develop each child's own sense of agency and foster personal independence.
Educators will assist children to regulate emotions and enhance communication. This leads to increased self-esteem and positive relationships with family and friends.
Our toddlers are engaged in a variety of hands-on activities throughout the day. This allows them to explore, use trial and error, succeed and develop confidence in an environment that is safe and secure, with the support of caring educators.
Higher staff ratios ensure that children are offered one to one interactions with their educators as well as collaborative small group times.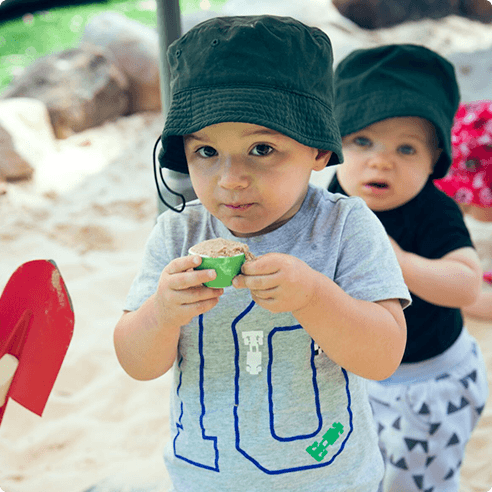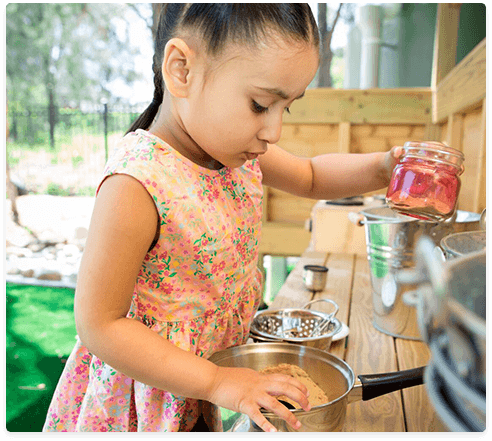 Preschool / School Readiness
Transition to School Statement
As the Educational Leader at Making Waves Early Education Centre, it is my role to oversee the development and delivery of our preschool curriculum. As a mentor for our team of educators I am responsible for ensuring that the Making Waves philosophy and values are embedded in everyday practice. I work closely with the preschool Room Leaders Natalie and Kayla to develop and deliver a comprehensive curriculum that ensures that children have a smooth and positive transition into 'Big School'. We promote an emergent curriculum built on children's interests and ideas that encourages curiosity and a genuine love of learning.
I am excited to work closely with our families to support you and your child in the preparation for and transition to school.
Meet the team
Sharon is a Diploma-trained educator, currently completing a Bachelor of Early Childhood Education and Care. She has over 15 years experience in the care of children in the educational and welfare sectors.
Low resilience affects a child's ability to find the joy in learning. This can have a flow-on effect in all areas of their educational journey, including the ability to build and maintain peer relationships, focus, read and write. Sharon's goal is to ensure that each child is given the opportunity to develop appropriate skills across all developmental domains and an understanding of early literacy and numeracy. She has a special interest in children's social and emotional development.
Natalie is a degree-qualified Early Childhood and Primary school teacher with extensive experience in preschool and the early stages of schooling.
Kayla is a Diploma-trained educator with years of leadership experience working in the preschool, toddler and nursery spaces, including operating her own successful Family Daycare business.
Chaya is a Diploma-trained educator that supports children across both preschool spaces. She has recently moved from South Australia where she worked across multiple early childhood settings.
Mikaela is a Diploma-trained educator that has over 15 years experience across various age group settings in early childhood education and care including operating her own successful Family Daycare business.
Tarryn is a Diploma-trained educator with extensive leadership experience that is currently working to support individual children to meet their educational goals across both preschool rooms at Making Waves.
Haylee completes our Preschool team as a Diploma-qualified educator who is working towards her Bachelor of Early Childhood Primary Education. Her passion and extensive knowledge of the National Quality Framework and the Early Years Learning Framework are evident in her programming and documentation skills.
What is our school readiness program and how will my child be supported in preparing for school?
Our program is based on the most current research and advice available within literature, evidence-based research studies and, of course, our own professional experience within early childhood and primary school settings. Our combined knowledge of the early years of schooling (including the NSW K-10 syllabus, Best Start and 21st century learning approaches), current understandings of early childhood development and practical experience across a variety of early learning settings have informed our school readiness program.
Our play-based learning program looks beyond traditional understandings of 'readiness' and looks at the whole child (cognitive, physical, social and emotional domains) and tailors individual goals from ongoing assessments throughout the year. Our team will be sharing documentation and evidence of learning with each of our families and will be working to develop the skills your child will need for a smooth successful transition to kindergarten.
We have often heard the question, "How does play fit into a school readiness program"? There is a large body of current international research that confirms that extended periods of unstructured play (with responsive educators engaging in intentional teaching and planning stimulating and challenging learning extensions) is the best way to equip children with the skills they need to be ready for school. In fact, the Australian government released national guidelines in 2009 that aim to ensure every early learning program in Australia is play-based, responsive to the child's interests and abilities and supports children's development across all domains. Small-group, inquiry and project-based learning align with this view and are just some of the current approaches to both primary and secondary school teaching and learning. We aim to develop the skills to effectively engage in this type of 21st century learning over the year in in our preschool rooms.
Throughout the year we will be working towards building a routine that aligns with a typical kindergarten day. We will be gradually building on expectations of whole group learning attendance (listening, asking thoughtful questions, focusing for extended periods of time), talking and listening tasks, early literacy, numeracy and science experiences and, of course, social skill development. We will also be assessing your child's social, emotional, independence and self-help skills – these are extremely important for successful school transition. Literacy, numeracy, STEM (Science, Technology, Engineering and Mathematics) and the arts are foundational to our program.
How do we support children and families in preparing for and starting school?
We will be working collaboratively with our onsite Occupational Therapists and Developmental Psychologist to build individual goals from ongoing assessments throughout the year. We also work closely with local schools, relevant early childhood intervention and health services and our families to build long-term relationships that will contribute to a successful learning community. This will involve school visits, inviting local teachers to visit Making Waves, identifying and supporting learning and development goals for your child and preparing documentation to support your child's transition in the first months of school. At the end of the year you will receive a 'School Readiness Developmental Progress Summary' that you can share with your child's school and kindergarten teacher.
We will provide information packs as well as hold information evenings as the school year draws closer to an end to ensure you are well informed and prepared to make the big change as a family.
Our documentation of your child's learning and development will help keep you informed about your child's strengths, interests and individual needs that we observe over the year. At any time, you can chat with us and share your ideas, concerns, thoughts and goals for your child. Please contact our office if you would like to organise a more formal meeting to discuss your child's development.
How does our program support children in their learning and development?
Our program is guided by the Australian Early Years Learning Framework (EYLF) and the National Quality Standard (NQS), ensuring continuity of quality care throughout your child's journey at Making Waves. Our play-based learning curriculum is formed by current research and aims to support each child's holistic development. This means our program is designed to be responsive to children's individual strengths, interests and needs and is focused on all aspects of your child's learning and development including social and emotional well-being, emotional intelligence, social competence, independence and physical capabilities. Our play-based program is planned so children develop a range of learning skills such as critical thinking, problem-solving, participation, enthusiasm, creativity and persistence in a supportive, responsive environment. Children will learn to develop number sense, early literacy skills and an appreciation for the arts as they engage in the resources, planned experiences and spontaneous teaching that make up our program.
Specifically, our program will include the following to support learning skills:
inquiry-based learning as a focus for children's learning including collaborative documentation and recording of thinking
a print and numeracy rich environment with integrated functional print and numeracy such as weather charts, lists, posters, graphs and routines
a literacy centre with a variety of writing and art tools, paper, brochures, scissors, glue and clipboards
free and guided play experiences throughout the day that encourage social interactions and shared group play
resources that encourage early mathematics skill acquisition such as tangrams, blocks and open-ended materials that encourage sorting and classification
regular shared reading experiences and engagement with books, both independently and as a group
periods of group reflection time where children can pose questions, raise ideas, share thoughts, sing songs and develop group documentation (floorbooks)
the physical environment provides opportunities for dramatic play and role-playing
engagement with Information and Communication Technologies (ICTs) to research and plan for future learning
A strong focus on scientific inquiry, developing skills such as hypothesising and problem-solving